Ultimate Playground is the seventh episode of the first season of Brojects.  It premiered on Cottage Life on May 8th, 2014.
With a mandate from their wives to build something for the kids, brothers Andrew and Kevin Buckles  tackle the Ultimate Playground. The boys unleash their inner eight-year-olds to create a kid-friendly cottage play area, not fully realizing they're actually making one for themselves. The boys hurl themselves headlong into slack lines, zip lines, teeter-totters and a man-sized version of a baby bouncer, proving the old adage that while growing old is mandatory, growing up is optional.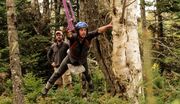 Write the second section of your page here.
Production
Edit
Write the second section of your page here.
Created by Andrew Buckles and Kent Sobey
Produced by Kent Sobey, Andrew Buckles, Howard Ng
Directors of Photography: Rob Barnett
Editor: Jamie Spurway, Christopher Martone
Sound Mixer/Editor: Dino Cuzzolino
Sound Recordist: David Richardson
B-Camera Operator: Cam Erais
Additional Interviews by: Kris Booth
Production Manager: Alex Coles
Production Cordinator: Jenna MacMillan
Construction Coordinator: Tyler Ryan
Production Assistant: Chris Coles
Post-Production Manager: Jenna MacMillan
Assistant Editor: Christopher Martone
Colourist:  Kevin Kirchner
Motion Graphics/Titles by Jamie Spurway
Publicity/Digital Marketing by Julie Giles, GreenHAT Digital
Community content is available under
CC-BY-SA
unless otherwise noted.