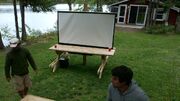 The Ultimate Outdoor Theatre (project) is a DIY construction project completed by Andrew and Kevin in the Season 1 episode of the same name
Construction
Edit
The first thing to build is the picnic table.  The brothers built the basic frame and started the tabletop, but left one of the boards near the edge, off for later. Unlike your conventional picnic tables, they built benches independently so that they can sit either on or off the picnic table frame and also have the ability transform into recliners.
Underneath the last table-top board, they mount the screen for the Outdoor Theatre. The brothers use a  manual roll-up projector screen. This hides underneath the table during meals and will roll out (or more accurately, roll up) when it's time to see a show. The same table-top board that covers it up will be used as a vertical support that holds the screen in place when extended.
In terms of sound:a priority on this project was keeping the cables to a minimum, and thus, numerous wireless audio options were explored  but in the end, the brothers opted for a Bluetooth-enabled soundbar for its convenient size and wide-ranging compa and mounted it under the table.
The next step is to build a custom projector box.  As with the picnic table/projector screen, the projector box is dual-purpose, as well: it doubles as a lazy susan for the picnic table top, but when it's time to put on a movie, it comes off the table, the top flips up and the whole mounts simply on a post away from the screen.
Community content is available under
CC-BY-SA
unless otherwise noted.