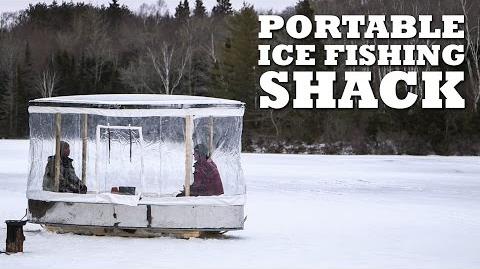 Ultimate Smokehouse is the tenth episode of the first season of Brojects. It premieres on Cottage Life on May 29th, 2014.
The lake at the cottage is not open for winter fishing so the brothers Andrew and Kevin decide they need a mobile ice fishing shack they can haul into the middle of a neighboring frozen lake. But for these boys, it can't be any old shack. Hitch along for the ride as the brothers, together with their engineer pal Walker design and build the Ultimate Ice Fishing Shack: a warm and cozy, ultra-portable hut that is a cinch to set-up and take-down.
Write the second section of your page here
Created by Andrew Buckles and Kent Sobey
Produced by Kent Sobey, Andrew Buckles, Howard Ng
Director of Photography: John Hoare
Sound Mixer/Editor: Dino Cuzzolino
Sound Recordist: David Richardson, Jon Cornwall
B-Camera Operator: Cam Erais
Production Manager: Alex Coles
Production Cordinator: Jenna MacMillan
Construction Coordinator: Tyler Ryan
Production Assistant: Chris Coles
Post-Production Manager: Jenna MacMillan
Assistant Editor: Christopher Martone
Colourist: Kevin Kirchner
Motion Graphics/Titles by Jamie Spurway
Publicity/Digital Marketing by Julie Giles, GreenHAT Digital
Community content is available under
CC-BY-SA
unless otherwise noted.