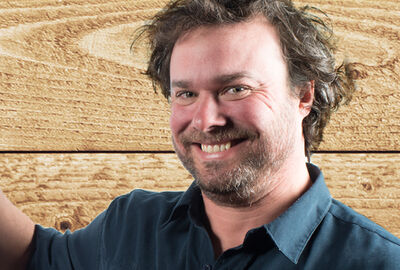 Kevin Buckles is the host of "Brojects" and the older brother of Andrew and Shannon Buckles, and the husband of Christie Buckles.
Role on Brojects
Kevin is the realist to Andrew's visionary/dreamer. Kevin's role is to keep Andrew reined in and to prevent the projects from getting too surreal.
Biography
Kevin was prominently featured in Kent Sobey's documentary "Air Guitar In Oulu", which follows Andrew's quest to become the first-ever Canadian contestant at the Air Guitar World Championships in Oulu, Finland.
Kevin first met his Brojects co-host Brian Walker in the tenth grade. In university, the two were also roommates.
According to the episode Ultimate Pizza Oven, Kevin has been working in I.T. (Information Technology) for approximately fifteen years. An interview with the brothers in TV Guide Canada states that Kevin is a "a 'computer guy' for a phone company".
According to the episodes Ultimate Outdoor Shower, Amphibious Hot Tub and Mobile Mini Cottage, Kevin's greatest fear is bears.
Community content is available under
CC-BY-SA
unless otherwise noted.